Let's #VaxForLive to get Kiwi musicians back on stage!
Publish Date

Friday, 8 October 2021, 9:27AM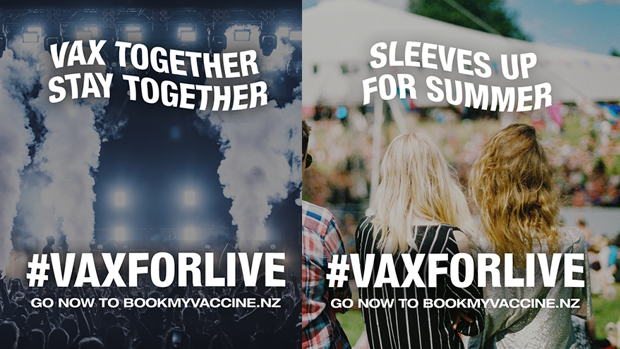 We love listening to live music and they love playing it, so let's #VaxForLive.
Kiwi music stars and promoters have asked fellow New Zealanders to roll their "sleeves up for summer" and help musicians get back to playing on stage. 
It's no secret that the music industry has taken a massive hit due to the pandemic, and given the current Delta outbreak, their biggest time of the year is in jeopardy. 
Earlier this week, the New Zealand Government announced the roll-out of vaccination certificates in New Zealand, with a plan to launch in November this year. Commonly used overseas, the certificates would provide proof that individuals have been fully vaccinated, and the Government is likely to make the use of these certificates mandatory for large scale events.
So these muso's are asking us for a favour, and they probably deserve a helping hand after all they've done for us! 
BENEE - "If you want to go to shows please get vaccinated! You're not just protecting yourselves but others who may be vulnerable! This vaccine has been proven to reduce hospitalisations and deaths. I feel like I need to stand on this to protect my family, friend, band, my crew & my supporters, to keep all of them safe. Without the vaccine there won't be any shows! I've had mine! Get urs if u are able to pls."
THEIA - "Me kaha taatou ki te patu i a Korona ki te rongoaa aaraimate. Kia okaina ia o taatou, ka ora ai te ao puuoro."
"We should all contribute to fight Covid19 by being vaccinated. Through this, our music industry will flourish again." 
LADYHAWKE - "For me getting the vaccine is all about protection - protecting the people who I love who cannot get vaccinated because they're immunocompromised. Or because they're ineligible, like my daughter who's just about to turn 4. And after almost two years of not being able to tour internationally the vaccine gives me the best protection to be able to do the job that I love.
I cannot wait to be on stage playing music again here in Aotearoa, and the best way for us to get to that summer of gigs and dancing is to be vaccinated. For our whanau, for our communities, and for ourselves." 
MAKO ROAD - "Sadly, our tour was cut short by the covid lockdown, keen to get it finished & start making plans for the future. Get your vax folks so we can all get back to gigging and grooving." 
Get #vaxforlive gigs now so we can have an epic summer in the sun with some of the best live music and entertainment that Aotearoa has to offer.
Be part of the crowd and book now at www.bookmyvaccine.nz and help us Unite Against Covid and bring back live music!
If you need further advice from experts about vaccinations, Fletch, Vaughan & Megan had a kōrero with Dr Siouxsie Wiles to discuss all your burning questions.