WATCH: Smokefreerockquest 2018 webisodes
Publish Date

Friday, 11 May 2018, 3:46PM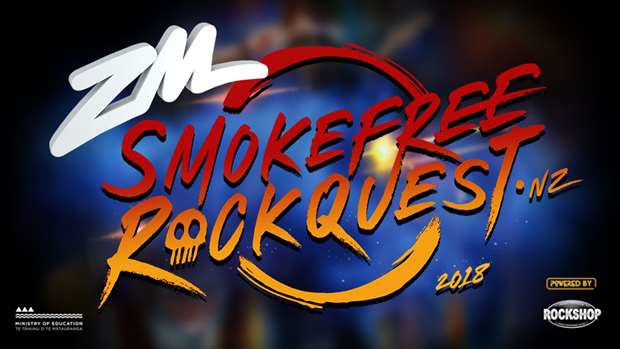 ZM is teaming up with the Smokefreerockquest!

NZ's only nationwide, all-original music, live youth music contest.

Broods, Alien Weaponry, Kimbra, Maala, Leroy Clampitt and Ladyhawke are among the many Kiwi acts who've used Smokefreerockquest as a springboard to success.
Entries from right around New Zealand rocketed to a record 850 bands and solo-duos last year; and this year's entrants will turn up between April and July at 37 heats and finals from Invercargill to Whangarei.
VOTE FOR YOUR PEOPLE'S CHOICE BANDS HERE
Smokefreerockquest has been uncovering talent in the Kiwi music industry for over 30 years and now, as well as the live shows, the event has a huge following on its 22 regional webisodes.
See them here every week!
May 5th | Week One - Nelson 
This week we are joined by Clarke Gayford as we travel to where Smokefreerockquest all began, Nelson. This is where school teachers Pete Rainey and Glenn Common started Smokefreerockquest 3 decades ago. 
As the home of Broods, in 2011 siblings Georgia and Caleb Nott performed with their band The Prenters and took out the winning spot.  Since, the siblings have won numerous awards, including people's choice award in 2016 at the New Zealand Music Awards. Georgia says her and her brother "seriously would not be in the amazing position we are in right now if Rockquest didn't exist. It was and always will be one of the best things we ever did". 
The following year, Nelson College band New Vinyl also won. Needless to say, there is some amazing talent in Nelson - Don't take my word for it though, watch this weeks Webisode to see for yourself! 
May 12th | Week Two - North Shore, Auckland
Second up on our journey around Aotearoa is the North Shore regional heats in Auckland.

This region has given us some of our competitions most successful participants. Multi award winning band The Checks took out the competition in 2003, going onto secure a four-album record deal with Sony.

Two years later "Piece of my heart" hit makers The Electric Confectionaires entered the competition with their vintage instruments and close-harmony vocals, and won this region again.

So, I think it's fair to say the North Shore has proven themselves, can an act from the region take out the competition this year?
May 19th | Week Two - East Coast
This week we head to Clarke's hometown for the East Coast Regional Heats. Music culture runs deep in Gizzy- it's the birthplace of NZ's fave music festival, Rhythm & Vines!
Clarke shares a fond memory of his days as MC back when the festival first began. We catch up with The Search who have won the East Coast Regional Finals the last couple of years and are hoping to make it all the way this year...
Could they become our first ever band from the East Coast to take out the National Finals!? Resolution just won the East Coast Regional Smokefree Tangata Beats Award, they share with us why it's important to them to write their music in Te Reo Maori.
Week Two - Manukau
We head to South Auckland for the Manukau heats, the very place where we first discovered last year's Smokefree Rockquest winners Minimal Silence!
Minimal Silence went straight from their Smokefreerockquest win to release their first single, House of Flies, at the end of last year.

Just in case that didn't set expectations high enough for all our Manukau entrants, last year our Smokefree Tangata Beats National Winners, Jubilee, were also from Manukau! A bit of advice from Jubilee for our heat hopefuls - they put their win down to some intense last minute hard work: "Being Year 13 we have so much on. School has to come first, then we're in a jazz band, so last night we just knuckled down in a really intense practice session."
Week Three - Otago
We're way down the bottom end of the country but hoping to find some top musicians at the Otago Heats!
Last time we had a National Winner from Otago was in 2001 when Carriage took out the top prize. That name not ringing any bells? How about Die!Die!Die!? Yip, that's right Carriage renamed as Die!Die!Die! and have been killing it on the music scene ever since, they even released their sixth studio album at the end of last year.
Just to continue the Otago name dropping, we also discovered Nadia Reid and Aldous Harding way back in 2007 when they competed together in the Otago Regional Final. It's about time we unearthed some more hot talent in the region so keep your eyes peeled during the ep!
Take your Radio, Podcasts and Music with you