We wore Hannah's Grandpa Sneakers for a week
Publish Date

Tuesday, 27 August 2019, 11:43AM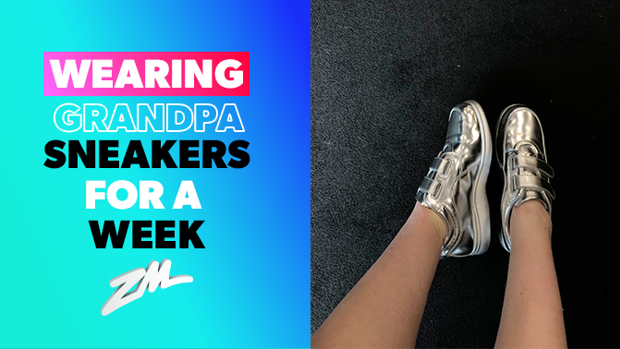 Hannah's recently released their Grandad Sneakers and while they got a mixed review from the internet.
I, web chick Carwen, have now been challenged to wear them for a week and test them out.
First Impressions:
These colours are quite different from the typical shoe you'd see in stores.
Secondly, they're comfy as hell. The Hush Puppies sole is, well, the comfiest thing I may have worn for a while.
And- they have velcro straps. My childhood is all coming back to me.
On day one, the shoes received a lot of compliments from my workmates who thought that their boldness kinda distracted from the fact they look like I stole them from my Grandpa's closet. So that was a plus.
"FINALLY- Velcro is coming back!"
On Tuesday my already pink hair, mixed with a lime green t-shirt, really distracted from what my friends have now affectionately named 'my spaceman shoes'.
While watching the VMA's this day, my co-worker pointed out that my shoes "matched the VMA trophies". 
The rest of the week I tried the shoes out with outfits I wear regularly and asked the ZM office what they thought of the shoes.


                     "I like them!!!!!! I love the colour and think they're fun."
                                                                                      "They're very silver, they're almost blinding haha"
"You could create a whole ASMR video with the velcro straps"


Overall shoe thoughts:
As much as they are definitely Grandpa chic, it's kind of a vibe!  I thought the silver/velcro combo was going to be the hardest to style, but they surprisingly worked with a lot of different outfit types, which was awesome.
The shoes come in a bunch of different shades, so you don't have to be as bold as my silver pair if you don't want to. Oh, and it feels like walking on clouds with the Hush Puppies sole.
If you want your own pair of Grandpa Sneakers (actually called Power Walkers), head along to Hannah's website here.