Taylor Swift's acceptance speech at the 2023 iHeartRadio Awards almost made me cry
Publish Date

Tuesday, 28 March 2023, 4:53PM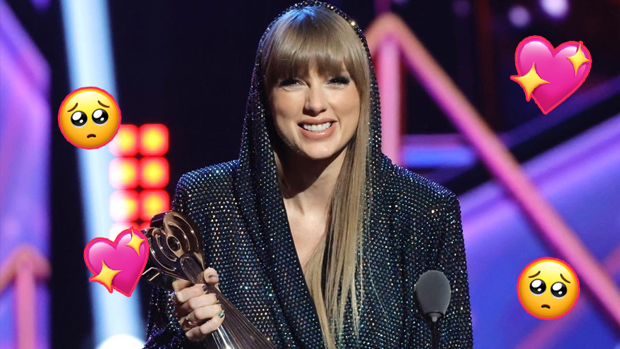 Taylor Swift IS the Music Industry!
Taylor Swift's legacy was honoured at the 2023 iHeartRadio Music Awards today when she was named this year's recipient of the iHeartRadio Innovator Award.
The award was presented by Phoebe Bridgers, who honored her friend and tourmate in front of the crowd for always telling the truth in her songwriting, saying, "I'm grateful to have grown up in a world with Taylor Swift in it. Or the world (Taylor's Version)."
Several big names paid tribute to Swift's legacy, including Dolly Parton, Jonathon Van Ness, Justin Timberlake, Miles Teller, Selena Gomez and Ed Sheeran. Sheeran praised her songwriting abilities, adding that "Anti-Hero" is one of the best pop songs ever written. Queer Eye's JVN also praised Swift for using her platform to lift up the LGBTQ+ community.
While accepting the award, Taylor reflected on what it means to be an innovator, saying that she simply tried to make the right decision for her at the time, whether or not it was ever done successfully before, especially when people aim to replicate something that has been proven to work before.
"I think the coolest ideas or moves or choices are the new ones, the ones that set a precedent. I'm very privileged because my fans have backed me up in a lot of the choices I've made, like switching genres or re-recording all of my old music."
She also said that the award honors not just her successes but her failures, because they got her to where she is today.
"The thing with these exciting nights and moments and specifically this award that I'm so lucky to have gotten is that they're shining a light on the choices I have made that worked out, the ones that turned out to be good ideas," she said. "But I really want everyone to know, especially young people, the hundreds or thousands of dumb ideas are what led me to my good ideas."
And this is the part which made me tear up...
She added, "You have to give yourself permission to fail. I try as hard as I can not to fail 'cause it's embarrassing, but I give myself permission to and you should too, so go easy on yourself and just make the right choices that feel right for you and someday someone might think that you've been innovative."
Swift was presented with the Innovator Award to honor her impact on global pop culture throughout her career. With her army of devoted fans, she has broken multiple records with her tours, with 2019's Reputation stadium tour being the highest-grossing U.S. tour in history and 2023's Eras tour literally breaking ticket sites.
The Innovator Award wasn't the only trophy Swift took home, she was the most awarded artist of the night, taking home 6 wins - Song of the Year and Best Lyrics for 'Anti-Hero', Pop Album of the Year for Midnights, TikTok Bop of the Year for 'Bejeweled', and Favourite Use of a Sample for 'Question...?'
As we always say, it's Taylor Swift's world and we're just living in it.

Get you a friend who wins you a trip to see your fave, because that's what Ella did for her bestie Brooke! Re-live our winners trip to Arizona to see Taylor Swift's The Eras Tour here.
Take your Radio, Podcasts and Music with you