Success! Ed got his "Ed Block" and is teaming up with Whittaker's to sell them for Auckland flood relief
Publish Date

Friday, 3 February 2023, 6:12PM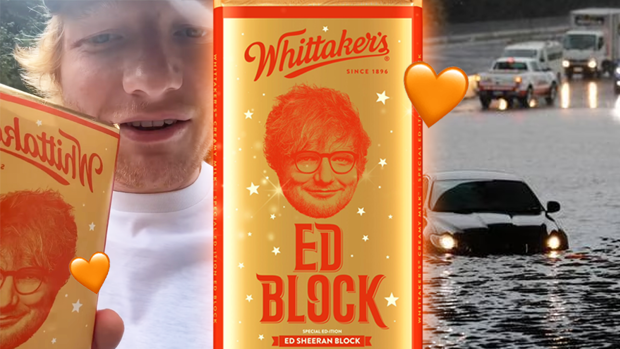 Ed Sheeran has announced he will be teaming up with iconic Kiwi brand Whittaker's Chocolate to offer some sweet relief to flood-hit Aucklanders!
The singer caused a stir on social media when he asked Whittaker's to make good on a stunt that saw them create a special "Ed Block" of their Five Roll Refined Creamy Milk Chocolate, complete with his face on the label.
"Whittakers New Zealand chocolate, you've made a bar of chocolate with my face on it . . . please get me a bar and all is forgiven," Sheeran said in a video posted to his Instagram yesterday.
He did not have to wait long, sharing today that he had received a special delivery from the chocolate makers.
"All is forgiven," Sheeran said. "I love you guys, you make great chocolate".
Sheeran also revealed that Whittaker's had hatched a plan to make the bar available to the public and raise funds for Auckland flood relief, which he said was a "fantastic idea".
But he was not a fan of the image used and asked that any new products carry a different pic, offering this option:

Whittaker's confirmed the details, telling the NZ Herald: "We're excited to have been able to get some of our Special Ed-ition 'Ed Block' to him today, and even more excited that he's keen to do something with us for Auckland flood relief. We're working through the details and will have an update on this soon!"
Ed has also returned to social media and I guess is now a vlogger! Watch his behind-the-scenes vid from his Wellington gig.
Article originally published in the NZ Herald and re-published here with permission.

Fletch, Vaughan & Hayley were luckily enough to catch up with Ed before his show in Wellington! They were only allowed to ask one question though... check out what they asked below.
Take your Radio, Podcasts and Music with you