Since it's engagement season in Hollywood, we've made a list of some of the most expensive rings ever
Publish Date

Wednesday, 27 October 2021, 1:02PM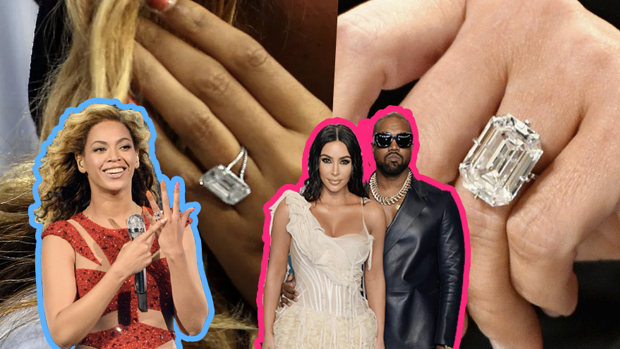 In the wake of Kourtney and Travis' flashy engagement, we've done a little bit of research into some of the most expensive celeb rings ever. 
And we hate to say it, but some of these rings would have taken longer to make than the duration of the actual relationship! *sips tea*
And we were going to keep the list to five, but then it would be dedicated entirely to J-Lo so we had to make it slightly bigger *sips more tea*.
10. Ciara ($3.5 million NZD)
Starting our list off, singer Ciara sports her 3.5 million dollar sparkler from Husband (and American Football star) Russell Wilson. Ciara's first husband and rapper, Future, bought a similar ring first time round for the '1,2 Step' singer but was said to only be worth a *measly* $500,000 USD. 

9. Blake Lively ($3.5 million NZD)
They really are couple goals, and it seems Ryan Reynolds didn't even look at the price tag when he bought this gorgeous engagement ring for Blake Lively. And still going strong, there is no way you can't love these two! But check the bling out!

8. Kim Kardashian ($5.6 million NZD)
It seems like a shame that one of the biggest couples in entertainment isn't together anymore, but the two have been very public with their ongoing support for each other. In the case of their engagement though, Kanye seems as good at picking rings as he is at making music!

7. Jennifer Lopez ($6.9 million NZD)
Spoiler alert, J-Lo is no stranger to an engagement ring. And luckily for her, she always seems to shack up with blokes that have the ability to pay. Her ring from hall of fame baseballer Alex Rodrigues was rumoured to be worth a whopping 6.9 million! Baseball, huh.

6. Jennifer Lopez ($7.6 million NZD)
So this is a shock too, our gal Jennifer features on this list for a second time. Before A-rod, there was singer and actor, Marc Anthony. They were possibly the biggest couple of their era, and the price tag of this diamond was seriously big too! 

5. Vanessa Bryant ($7.6 million NZD)
Back in 2003 Kobe Bryant proposed to his wife Vanessa with this beautiful diamond ring. At the time it was reportedly worth over $5 million dollars, but adjusting for inflation, the ring is now valued at close to 8 million!

4. Beyonce ($8.3 million NZD)
Okay, now we've upped the stardom stakes. They are almost certainly the most well-known celeb couple, and have been for a long time. And when Beyonce talks about putting a ring on it, she doesn't mean any old ring! Must be pretty tough to dance with such a weighty hand!

3. Paris Hilton ($8.6 million NZD)
So apparently Paris Hilton was engaged to a Greek millionaire a while back? This one took a little bit of research, but circa 2005 Paris was sporting a giant diamond on red carpets around the world. 

2. Anna Kournikova ($10.3 million NZD)
A top-ranked tennis player needs a top-ranked ring, or that's what hubby Enrique Iglesias thought anyway. When the 'Rhythm Divine' singer proposed in the early '00s, the ring was reportedly worth 6 million, but thanks to inflation it's added an extra digit!

1. Mariah Carey ($14 million NZD)
And claiming top spot, with a price that is almost as high as her vocal range, it's Mariah Carey. Her gigantic ring from ex-hubby, Australian businessman James Packer made headlines all over the world, but Mariah made even more headlines when she famously sold the ring for an LA Jeweler for a *low* $3 million NZD. 

So there you have it. But remember (and the list proves our point) the size of the ring reaaaally doesn't mean anything. It's the size of the love that counts!

Want more? Laugh out louder with Fletch, Vaughan & Megan weekdays from 6AM – Or catch up with their poddy below!
Take your Radio, Podcasts and Music with you