KFC have added the monstrous Popcorn Chicken SLAB to their menu
Publish Date

Monday, 1 November 2021, 1:38PM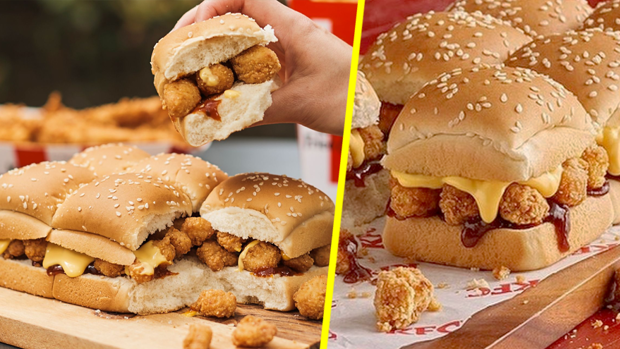 The Colonel has now got a 6 Pack!  
No, we're not talking the shirtless kind, we're talking six fresh buns with a poppin' center. Imagine this, a generous helping of Popcorn Chicken sandwiched between the Colonel's famous bread rolls topped with tangy BBQ and creamy cheese sauce.
In fact, you don't even have to imagine it anymore because from Tuesday 2nd November the Popcorn Chicken SLAB is hitting the menu nationwide!
And look, it's designed to be shared with your mates but if you see me devouring it all on my lonesome then no you didn't. Might even chuck in some gravy, coleslaw, and a bunch of chips too cause you know, YOLO, etc.
The Popcorn Chicken SLAB is available nationwide from Tuesday 2nd November.
This is what dreams are made of. See you in the drive-thru!

Want more behind-the-scenes of Celebrity Treasure Island? Catch up with our Inside CTI Podcast with Kim Crossman! New episodes out every Wednesday.