Girl Math Explained - How All Your Purchases Are Basically Free
Publish Date

Wednesday, 16 August 2023, 11:11AM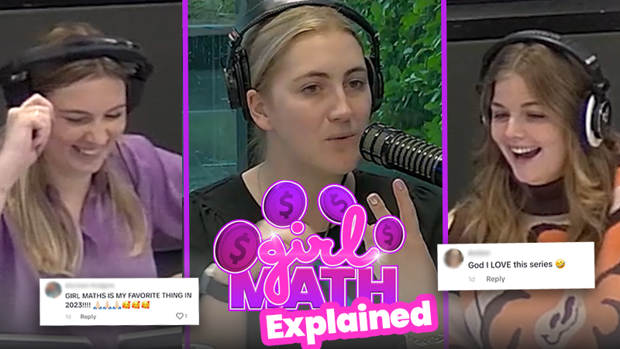 Every girl needs a bit of Girl Math. FVH's Hayley & Producers Carwen & Shannon AKA the CEOs of Girl Math have you covered for any expense you need justifying.
Girl Math is not delulu & it makes sense every time. Purchases usually end up costing next to nothing - basically free or in some cases you're in the positives. PLUS it's supporting the economy.
If you buy something & return it later, you've made money is the kind of logic Girl Math runs on. 
Watch as a listener went from buying a $1,000 bag to literally being paid to use the bag.
Andrea's $400 extensions? They're not free - she's actually making 40 grand by making the purchase. 
Officially a segment with a bangin' intro 🎵 Girl Math, Girl Math, Girl Math, Girl Math 🎵
Friend of the show, Economist Bad News Brad joined us for a segment of Girl Math where FVH  Girl Mathed Nicole's purchase of Ruby's Ariel dress -  a stunning halter neck number as basically free.
Girl Math is Bad News Brad approved ✅
Our Friends at Ruby understood the assignment 💅 
 Girl Math The Eras Tour edition
Wanna see Taylor Swift's The Eras Tour live in Sydney? Play ZM loud for your chance to win a double pass. We're giving away tickets EVERY. SINGLE. DAY.
Hayley, Carwen get the Girl Math mathing on Sarah's $5,600 trip to Sydney to see the most concert of our generation. 
Like, if you pay for something months in advance, by the time it rolls around, you're like this is free- that's Girl Math. 
Girl Math is a lifestyle. 
Want more Girl Math? Watch here. 

Laugh out louder with Fletch, Vaughan and Hayley weekday mornings from 6am. Listen in for the biggest celebs, guaranteed lols and Girl Math!
Take your Radio, Podcasts and Music with you