8 boss babe podcasts to help improve your life
Publish Date

Tuesday, 14 May 2019, 10:17AM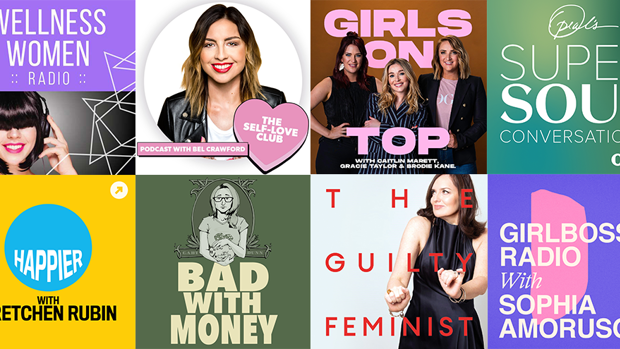 Everyone at ZM loves a good poddy.
Whether you like to listen at the gym, on your commute, or just at home, we've put together a list of our all time fave podcasts that will definitely make an impact on your life and improve your happiness. 
Wellness Women Radio

"Women Wellness Radio is a banger! They talk about health stuff you hadn't even thought about." 
This podcast goes out to the women with big dreams, who dare to be different, and who want to thrive in health, work and play. Join women's health experts  Dr Ashleigh Bond and Dr Andrea Huddleston every Tuesday for an "informative and entertaining podcast to help you master true health, and create an exceptional life. 
Oprah Super Soul Conversations

"This. Is. Life changing. I started this podcast because I felt lost, heartbroken, unfulfilled, and lacked purpose and courage, and I can confidently say that this has all changed since I found Oprah Super Soul Conversations." 
Hear Oprah's personal selection of her interviews with thought-leaders, best-selling authors, spiritual luminaries, as well as health and wellness experts. All designed to light you up, guide you through life's big questions and help bring you one step closer to your best self.
The Self-Love Club

"The ultimate guide to taking care of yourself and living your best life!"  
The Self-Love Club is a real-life modern gals guide to empower you to live your best life. It will provide you with tips to improve your self-love and self-care game, which will make you super happy and strong, who doesn't want that right?! On each episode of The Self-Love Club podcast Bel Crawford will interview girl boss women who are doing super cool things with their lives. They'll share their stories, explain how they've done what they have, share their self-love and self-care practises as well as their tips and professional advice.
Happier

"Happier keeps it real. It proves that no one is perfect but you can be in control of your own happiness."
Who doesn't want to be happier? Gretchen Rubin is HAPPIER, and she wants you to be happier too. The #1 bestselling author of The Happiness Project and Better Than Before gets more personal than ever as she brings her practical, manageable advice about happiness and good habits to this lively, thought-provoking podcast. Gretchen's cohost and guinea pig is her younger sister, Elizabeth Craft, a TV writer and producer living in Los Angeles, who (lovingly) refers to Gretchen as her happiness bully. Part of the Cadence13 Network.
The Guilty Feminist

"It makes you feel better about those moments when you when you're feeling like a lousy feminist."
Ever felt like you should be better at feminism? Join comedian Deborah Frances-White and her guests for this comedy podcast, recorded in front of a live audience. Each week they discuss topics "all 21 first century feminists agree on" while confessing their insecurities, hypocrisies and fears that underlie their lofty principles.
Bad With Money

"This podcast really highlights the fact that almost everyone has no idea what they're doing when it comes to finance and how the system." 
Feelings, finance, and the f*cking system. Comedian and New York Times best-selling author Gaby Dunn (aka America's Deadbeat Sweetheart) unapologetically examines the intersection of finances and social justice. Every week, Gaby brings a queer, feminist, unabashedly radical point of view to conversations with journalists, politicians, activists, and fellow deadbeats.
Girls on Top

"Real girls talking about real problems. Love how they speak their mind apologetically and are also super funny."
Three sassy Kiwi women 'get on top' of all the issues of the week. Some of the issues aren't even issues at all but crikey they make for a good yarn.
Girlboss Radio with Sophia Amoruso

"As an aspiring future business owner this podcast does nothing but fuel my goals! Sophia Amoruso and all of her guests are truly inspirational. I highly recommend to anyone and everyone who loves being inspired by some kickass women."
Each week on Girlboss Radio, you'll hear honest conversations with trailblazing women. These women go deep on what it takes to build a successful career or grow a business with staying power—while living life on their own terms and navigating personal and professional curveballs. Expect hilarious, vulnerable, ~useful~ conversations that humanize the known, champion the unknown, and laugh a little at the absurdity of life. Hosted by Sophia Amoruso, CEO and founder of Girlboss and Neha Gandhi, editor in chief and COO of Girlboss.