The WINNER of Fletch, Vaughan & Megan's Food Fight - Kiwi Treats Edition is....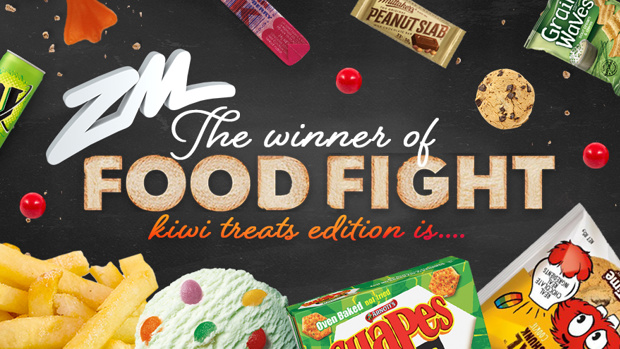 The humble, delicious, crisp, warm and comforting HOT CHIPS have managed to beat out the likes of pineapple lumps, dairy pie and Fruit Bursts to take out Fletch, Vaughan and Megan's Food Fight - Kiwi Treats Edition. 

Fletch, Vaughan and Megan's quest to find New Zealand's most loved Kiwi treat begun with 28 treats two weeks ago.
Hot chips had some tough competition, with it first beating out the dairy pie 80% to 20%.
Then it took down the classic potato chip sandwich by a landslide (83% to 17%), followed by slamming Munchos (88% to 12%).
It also beat out chip and dip (64% to 36%) and sausage in bread - which was one of two wild cards (65% to 35%).
Then it came down to the nitty-gritty, the final round. Hot chips were placed up against another wild card; Cookie Time Cookie.
But the oven baked goodness didn't hold out, and the victorious hot chips won with a landslide of 77% of the votes! 
To celebrate the victorious hot chip we want to bring free hot chips to the nation on Friday 25th May, AKA 'Free Chip Friday'.
More details on how to get free chippies to come! 
Take your Radio, Podcasts and Music with you