The Great Kiwi Bake Off is back with our gal Hayley and some new familiar faces!
Publish Date

Wednesday, 1 June 2022, 4:47PM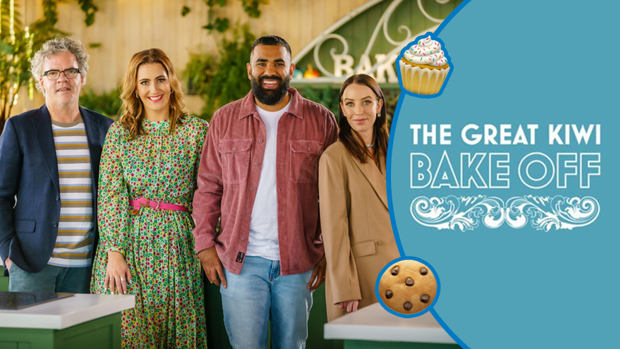 Bake Off is coming back to our screens with Hayley!
With another great string of shows of Have You Been Paying Attention? this year, Hayley will be back in another time slot on our TV screens, hosting a brand new season of The Great Kiwi Bake Off once more.
It's prepping for a return to TVNZ 1 this year, with the flan-tastic new season currently in production. Turning up the heat for 2022, not only will there be 10 brand-new bakers whisking up a storm from the bake barn on Auckland's beautiful West Coast, there is a new celebrity panel in place to see just how well they will measure up.
Joining Bake Off host extraordinaire Hayley Sproull, is comedian, actor, writer and stylish fun guy, Pax Assadi, set to add some extra flavour to an already iconic show.
"What I bring is the voice of the people," says Pax. "I don't bake, I don't know how to bake, but I'm in absolute awe of people who have the skills to pull it off. Also, I love to eat the baking."
Hayley adds: "Pax is an old mate, so I know we'll have plenty of laughs off and on camera!"
This season also sees two new culinary experts set to sift through their bakes to judge who falls flat and who will rise to the top.
Bringing their hotly acclaimed and award-winning expertise to the judging table are none other than chef, restaurateur, writer, and food consultant Peter Gordon, alongside author, self-taught baker and co-founder of international cakery 'The Caker', Jordan Rondel.
Back on Kiwi soil from her home in Los Angeles especially for this opportunity, Jordan says: "I am beyond excited to be a judge on this new season of The Great Kiwi Bake Off. Pax, Hayley and Peter are an incredible group of people to be working with on this and I get to be around people baking all day, so it's all pretty magical really!"
Recognised as the pioneer of fusion food, Peter Gordon has put his own apron down for now to take up this new role. "One of the many joys of the show is seeing the emerging talent of the bakers," says Peter. "I'm a huge fan of Hayley and Pax and meeting the very stylish Jordan is even more icing on the cake called Bake Off."
The Great Kiwi Bake Off returns to TVNZ 1 later this year - as per we'll let you know the exact date once we know!

Want more? Laugh out louder with Fletch, Vaughan & Hayley weekdays from 6AM – Or catch up with their poddy below!
Take your Radio, Podcasts and Music with you