The girls of FVM give their frank and honest reactions to the new Fifty Shades movie...
Publish Date

Friday, 9 February 2018, 1:53PM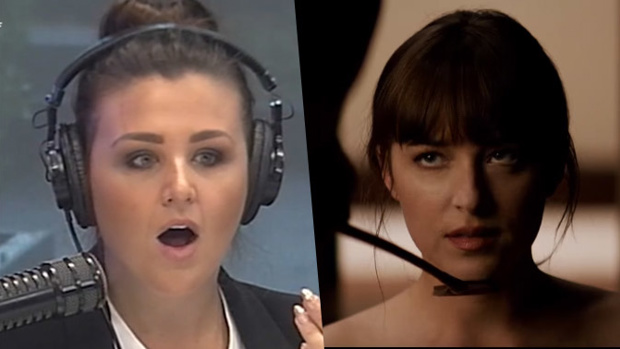 Megan, Producer Caitlin and Producer Anna (ANNNNYA) went along to a preview of the latest 'mummy porn' movie, Fifty Shades Freed. 
Here's what the three thought of the frisky movie:


Percentage-wise, how much of the film would you say was made up of sex?
M: I think it's pretty safe to say 50% of it was sex... or at least it felt like it!
C: A good 80% of it. Every time I thought Anastasia would get a break, they were back into it!
A: 65%!

Was that percentage too high, spot on or too low? 
M: It's kind of what you expect from these movies, but I did start to feel exhausted and I wasn't even doing it!
C: It was a bit much, I hardly had time to catch my breath and ask Megan what they were doing with what toys…
A: Ya definitely go into the movie expecting lots of sexy time and expectations were met! Buuut I feel like she must get so tired. It was CONSTANT :') We were tired just watching it hahaha. 


Has any of the sex scenes inspired you to try something new in your love life?
M: Hmmm na. Haha not that I'm a prude, but I haven't like created a room, or brought out a tray of toys to choose from! 
C: What love life?

Would you take your boyfriend (soz Caitlin) along to watch it?
M: My now husband has been with me to see the other two. We kind of have a giggle together. I would probs rather watch it with him that some of my girlfriends, it feels less awkies! At least you do that kind of stuff with him!
C: If I had a boyfriend (THANKS FOR RUBBING IT IN) maybe? Definitely, 100% would not take my mum.
A: Yep! I took him to see #2 and he didn't mind it - he gets suuuper shy so would probably take him to see him blush for two hours! 

Would you watch it with your Mum?
M: Hmmm na. Mum would probably comment and I don't need to hear that!
C: Oh I just saw this question… again, NO.
A: ABSOLUTELY. NOT. If there's one thing you don't wanna chat to ya Mum about it's red rooms and plugs for your... Yeeeeep. 


Was there enough topless Christian Grey scenes? 
M: Never enough, also not enough nakedness from him. We saw more of Ana than him! 
C: No. Could always be more.
A: Can you ever have enough topless Christian Grey?! 


Out of 5, how many stars?
M: The best out of the three, I'd say 4 stars, just manage your expectations, you're not going for an intricate storyline! 
C: Best out of the 3 movies!
A: Fifty Shades Freed was my favourite of the three, 4 stars!