Megan gives the other Meghan advice ahead of the Royal wedding
Publish Date

Thursday, 17 May 2018, 10:44AM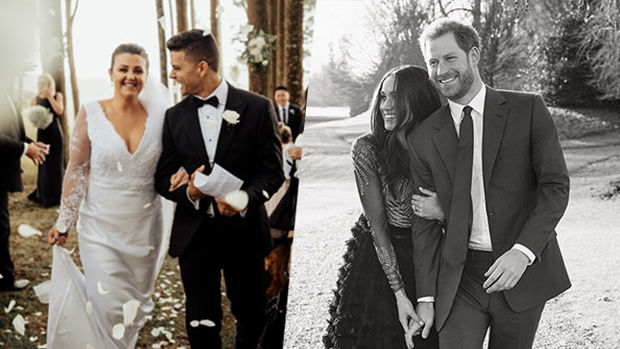 Earlier this year Megan wed the man of her dreams... aka Toyboy. 
The wedding was stunning, even emotionless Fletch managed to well up! 
But of course, lots of planning goes into a wedding and as another Meghan is about to take a trip down the aisle, Megan has passed on her top tips to having a magical day without toooo much stress.
Megan prepared for her big day with some beauty regimes - read her blogs on them here!
Give him something special
Even though you're marrying your favourite person, it's still a bloody nerve-wracking experience and I imagine even more so for Meghan and Harry... so give your partner/Harry a little note and a pressie the morning of the wedding. With everything going on it will calm their nerves. Maybe she could give him some sexy undies as a wee nod to later... do royals do that shit? I don't know! 
Listen to yourself
Don't let anyone tell you how to do it. This is your day dammit, and if you don't want someone there, or you want something done a certain way, bloody put your foot down and say so. It is your special day and if they love you they will fall in line. Also good luck with your family, girl... 
Take it all in
Everyone says this same one piece of advice, but it is so important, grab your partner and have wee moments, they don't have to be alone, but make sure you take in the day. It's a very overwhelming experience and goes by so fast if you blink you'll miss it. You want to make sure you are enjoying each other's company because your love is the reason everyone is even there! Celebrate it together! 
Don't stress the detail
Don't put too much pressure on the details. Especially the ceremony, no one really knows what is supposed to happen, so if something falls through, or goes wrong, let it go. I had lots of issues with the details for both of my weddings, and you can either let it get to you, or let it go. Don't let the details ruin what the day is all about.
Eat up!
Eat all the food!! No doubt like every bride, you've been on some stupid diet, so when it gets to the big day eat the damn food! You've paid for this amazing spread, and cake, don't forget to eat it! It's also a good idea so the champagne doesn't go to your head!
And finally...
Final piece of advice, if your gonna have your new husband take off your dress in some sexy ritual, take your spanks off in the bathroom first. It will defs kill the mood when he sees those flesh coloured granny panties! 😂