Find out what's in Megan's beauty bag
Publish Date

Friday, 9 November 2018, 8:32AM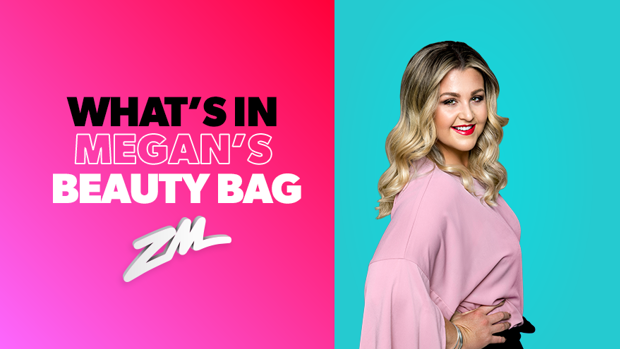 A lot of makeup and beauty products you purchase come from someone else recommending it. 
You gotta know if it's actually going to make you look like Gigi Hadid does in the Maybelline ads before you part with your pennies, right?
Just looking at this stunner and you know she's using some good products, along with her natural beauty of course! 
So we put the questions to our very own Megan to see what beauty buys she recommends: 
If you had to cut your make up bag down to only 3 products, what would make the cut?
Mascara, Skin Oil, cause moisturising is essential, and you could use it as a makeup remover. And lastly a contour, cause that could double as an eyeshadow and an all over powder in summer. Multi-use is key!
If you had to stick to only one brand of beauty products what would that be?
I don't really stick to one brand, because you might find a mascara that you love from one (for me it's Benefit Roller Lash) and then a foundation from another, I can't go past Estee Lauder Double Wear. Try different products and once you find the one, just hope it's never discontinued!
Finish the sentence: my hair would be a mess without…
Since I've gone blonde I NEED a good purple shampoo cause my hair goes golden so quick! I love Fudge Clean Blonde, and I leave it in for a few minutes to get a nice ashy colour. Also, Kiehl's Silk Groom Serum is the best for smoothing frizzy's.
What products do you use to keep your skin in check?
I have a pretty intense skin care regime, we call it 'the bedtime parade' before bed. Not in terms of expensive, I just put a lot on my skin haha!
I honestly do a mask on my face every second day. Keep in mind masks do different things... An exfoliating, moisturising, detoxifying etc. But I do want to give a shout out to my favourite mask at the moment. The Rejuvenating Clay Mask from Glow Lab which you can get from the supermarket. It's so smooth, and nourishing, and it's not expensive!!
I also swear by oils. Again there are different oils for different skin types, but try a few and see what works. I love a good Rosehip oil, but there are so many amazing blends including my current fav is Bright Oil from Goodie Co. Speaking of Goodie Co. they have an amazing serum called Dream Serum which uses Hyaluronic Acid. It's my new best friend, give it a google and it will be yours too!
Oh, and one last shout out to a $4.50 sheet mask from The Warehouse...! Get the Garnier Skin Active Hydra Bomb Mask. It has Hyaluronic Acid and is super silky on the skin.