Binge Worthy shows to watch this Long Weekend as recommended by Fletch, Vaughan and Megan
Publish Date

Thursday, 28 May 2020, 7:37AM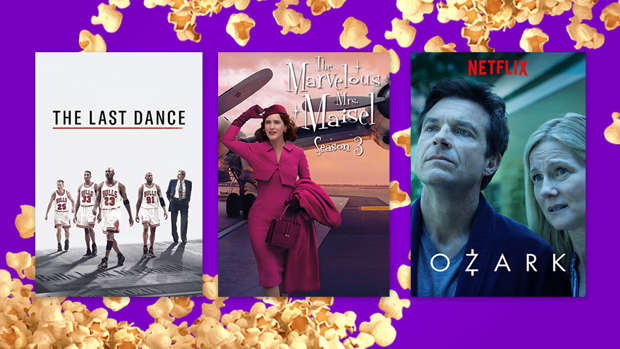 Now that we're finally out of Lock-down...the weather has gone to s***, but no worries because we've got you covered with some shows to keep you inside and entertained!
Here are our Binge Worthy picks for this Long weekend:
Fletch's Picks:
RUN
Neon
Ruby Richardson walks away from her boring suburban life to revisit the past with her old college sweetheart Billy Johnson. Seventeen years ago, Ruby and Billy made a pact – if either of them texted the word "RUN" and the other responded with the same, they would drop everything to travel across America together.  
Killing Eve
TVNZOnDemand
Eve's life as a spy isn't what she expected when she started. She's a bored, intellectual, MI5 security officer and very desk-bound. Villanelle is a killer, mercurial in mood, who clings to the luxuries of her job. In a fierce game of cat and mouse, the women go head to head as Eve is tasked with hunting down the psychopathic assassin.
Ozark
Netflix
With wife Wendy and their two kids in tow, financial planner Marty is on the move after a money-laundering scheme goes wrong, forcing him to pay off a substantial debt to a Mexican drug lord in order to keep his family safe. 
Vaughan's Picks:
Rick and Morty
Netflix

After having been missing for nearly 20 years, Rick Sanchez suddenly arrives at daughter Beth's doorstep to move in with her and her family. Although Beth welcomes Rick into her home, her husband, is concerned about Rick, a sociopathic scientist, using the garage as his personal laboratory and going on adventures across the universe with his grandchild Morty.
The Last Dance
Netflix
The Last Dance follows Michael Jordan the Bulls' 1997-98 season from start to finish, while also covering the rest of the chapters in Jordan's remarkable career. The 10-part docuseries follows the Jordan timeline from when he was an emerging star on his high school team to becoming a worldwide marketing force and cultural figure. The series takes its name from a phrase coined by then-Bulls coach Phil Jackson, who knew that the season would likely be the final run for the core members of that 1990s Bulls dynasty.
Hunters
Amazon Prime Video

Based on a true story, Nazi hunters discover hundreds of high-ranking Nazi officials in 1977 New York City, conspiring to create a Fourth Reich in the U.S. The Hunters set out to bring the Nazis to justice and thwart their new genocidal plans.
Megan's Picks:
The Marvelous Mrs. Maisel
Amazon Prime Video
Set in the late 1950s, Miriam Maisel has everything she has ever wanted - the perfect husband, two kids and an elegant apartment on New York's Upper West Side. Her seemingly idyllic life takes a surprising turn when she discovers a hidden talent she didn't previously know she had - stand-up comedy. This revelation changes her life forever as she begins a journey that takes her from her comfortable life on the Upper West Side through the cafes and nightclubs of Greenwich Village as she makes her way through the city's comedy industry on a path that could ultimately lead her to a spot on the "Tonight Show" couch. 
Dead To Me 
Netflix
Jen's husband recently died in a hit-and-run, and the sardonic widow is determined to solve the crime. Optimistic free spirit Judy has recently suffered a tragic loss of her own. The ladies meet at a support group and, despite their polar-opposite personalities, become unlikely friends. As the women bond over bottles of wine and a shared affinity for "The Facts of Life," Judy tries to shield Jen from a shocking secret that could destroy her life as she knows it. 
Dynasty
Netflix
Dynasty follows two of America's wealthiest families, the Carringtons and the Colbys, as they feud for control over their fortune and their children. Told primarily through the perspectives of two women at odds -- Fallon Carrington, daughter of billionaire Blake Carrington; and her soon-to-be stepmother, Cristal, a Hispanic woman marrying into the WASP family -- "Dynasty" not only features the glitz and gloss of extreme wealth, but also exposes the dark underbelly of a corrupt world built on backroom deals.
Take your Radio, Podcasts and Music with you