Ciaran McMeeken - 'Which Way Shall We Go?'
Publish Date

Wednesday, 22 March 2017, 10:15AM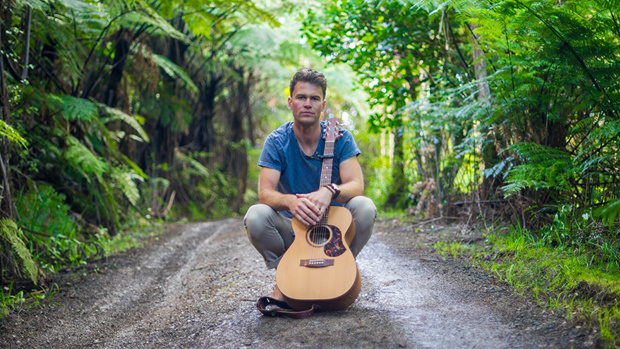 Born in Arrowtown and growing up in Dunedin Ciaran McMeeken began his musical journey by picking up drumsticks at age 11 before moving onto the guitar as a teenager. This is where his love of figuring out life on the strings developed.
Fast forward to 2013, with Ciaran spending most of his time working on a South Island farm in Owaka Valley. Six months into his time there the owner of the farm - John - asked Ciaran what he wanted to do with his life, a question Ciaran really didn't have an answer for, which led John to give the fateful advice of "just get on with it mate".
And so encouraged by friends and family and finding a new confidence in his musical skills, he began writing and performing his own songs in the social settings of mate's backyards of his hometown.
For Ciaran, music has always been used as a type of therapy. Allowing himself to be vulnerable with the song writing process as a means to work through complex emotions. A collection of these early theaputic songs became his first independent release – an EP titled 'The Valley' released in 2014 which he chose to record back at the Owaka Valley farmhouse where he received the best advice of his life.
This body of work caught the attention of internationally acclaimed producer Greg Haver (Manic Street Preachers, Jason Kerrison, Pluto).
Ciaran made the move from Dunedin to Auckland and continued to work with Haver on a new batch of songs which became his second EP 'Screaming Man'. Released in October 2015 to wide acclaim, the EP included re-recorded versions of 'The Valley' tracks 'Boy' and 'Hold Your Hand Brother'.
'Screaming Man' also featured the hit single 'City' which picked up nationwide airplay on New Zealand radio. After a successful headline show celebrating the EP's release Ciaran secured prestigious opening slots on the New Zealand tours for Avalanche City and Ronan Keating.
Ciaran spent the rest of 2015 developing his songwriting, marking a change from his usually solo efforts taking a far more collaborative approach. Being a part of the inaugural APRA-NZ On Air's Song Hubs programme in New Zealand and rubbing shoulders with the best songwriters in the business, including Mozella, Lindy Robbins, Sacha Skarbek, and Australian artist Montaigne, Ciaran embarked on a new song writing journey.
In April 2016, Ciaran headed away on an European writing tour in conjunction with Sony and Imagem Publishing, visiting the UK, Switzerland, the Netherlands, and Ireland. During the trip, Ciaran completed around sessions with 20 writers and churning out dozens of songs with a view to them becoming his new album.
The co-writing sessions opened Ciaran up as an artist, finding himself constantly seeking more and more opportunities to work with other musicians. The connections he found working with artists during the song writing process emboldened him, enjoying the bouncing creativity and organic flow of ideas in the writers room.
An incredibly prolific year led to some difficult decision making as Ciaran went into the studio in late 2016, deciding on which of the plethora of songs he had would become his debut full length album.
Working with a live band in the recording studio, Ciaran's music has diverged from his classic singer-songwriter sound with genre-spanning efforts that infuse the sounds of rock, blues, swing, soul, and jazz, all settled by his incredible vocals.
Workshopping his strong lyricism, the resulting album is 13 tracks of storytelling with Ciaran's trademark honesty – a collection of songs that resonate with unerring relatability. A reflection of the collaborative nature of how it was brought together, the new album due for release in 2017 signals a step forward from the vulnerable Ciaran of years gone by into a strong artist who instils his open warm lifestyle into his music.
Earnest, genuine, and positive, Ciaran McMeeken is the epitome of an artist who makes music for the love of it.
Ciaran McMeeken's debut full length album is out later in 2017.
Take your Radio, Podcasts and Music with you