Publish Date

Thursday, 5 July 2018, 9:39AM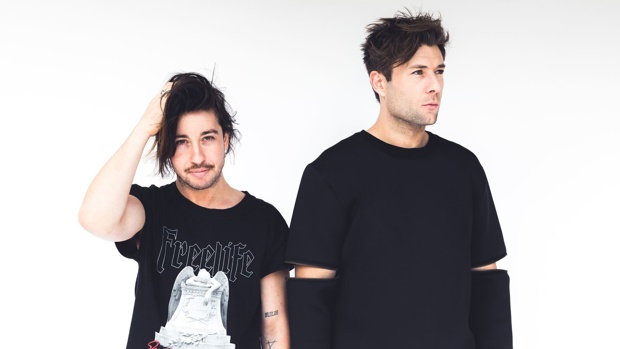 Chores continue their winning streak with a new killer track, 'Vampire Teeth', feat. EYE SAK MAC.
Listen to it HERE!
A beat-driven, uplifting tune, 'Vampire Teeth' delves into new sonic territories for Chores and showcases the duo to be one of the most progressive acts on the Kiwi dance scene right now.
"We are always trying to develop our sound and 'Vampire Teeth' is very much about pushing boundaries. Its vibe pays homage to the nu-disco music we grew up listening and partying to, band such as Van She, Hot Chip and Chromeo."
'Vampire Teeth' features, and is co-written by, EYE SAK MAC (AKA Isaac McFarlane) - a New Zealand songwriter and vocalist, best known as one half of guitar pop band Two Cartoons and founder of Daddy's Records.
Also sharing songwriting duties with Chores and McFarlane is Alex Wildwood, known for his indie projects Shakes and Beeches. Wildwood also produced the track and has a lengthy and esteemed list of production credits to his name, including Sachi, NÏKA and October.
Find Chores:
Together Chores, EYE SAK MAC and Wildwood demonstrate a flair for songwriting, pairing quirky pop with catchy-as-hell hooks and melodies, with compelling lyrics. "Vampire Teeth is a metaphor about the girl who you wished you loved, but really she's the girl you only like spending time with because you don't want to be alone."
'Vampire Teeth' is the latest in a string of hit singles released by Chores. Their last track, 'Surrender 'feat. Abby Wolfe, has amassed more than 270,000 plays on Spotify since its release just months ago. The song received Top 40 radio play on ZM and The Edge in New Zealand and was added to A Rotation on Kiwi tastemaker station, George FM.
Across the Tasman, both the song and the video received love from Triple J Unearthed: "Surplus energy beaming outta this track from Chores. Handy too cos you'll expend a bit of your own bouncing to this" - Dave Ruby Howe, Triple J Unearthed Music Director
It also enjoyed success in Asia and Indonesia with airplay on Kiss 105, Hard Rock FM, Radio Heatwave, MTV Asia, Billboard China and VH1 India.
Take your Radio, Podcasts and Music with you